Negotiation is perhaps the most important skill in the Commercial and Contract Managers armoury, and possibly the hardest to teach. There are so many ways to begin a negotiation and there is no perfect approach. We thought it would be fun to look at some high-profile negotiators and discuss the traits that have – or haven't – made them successful. So, which of these five high-profile professionals do you identify with…if any?!
Seb Coe "The Showman"
Complete self-confidence in his own abilities
Knows how to build a complete team
Can favour style over substance
As an integral figure in the London 2012 Olympic Games bid, Coe demonstrated his self-belief by charming delegates, flying the metaphorical British flag all-around the globe and appearing to never waver from his carefully prepared notes in his committed speeches.
He used his influencing skills to find out what his "customer" needed and shaped his response in a way that was more compelling than his competitors responses and then carefully built a strong multi-skilled team to cover every angle of the negotiation.
You might argue Seb Coe is was more of a sales person than a negotiator. Although he has managed to negotiate a great number of successes, he's a big picture thinker who uses his skills to sell a deal and move on, not always considering the nitty gritty.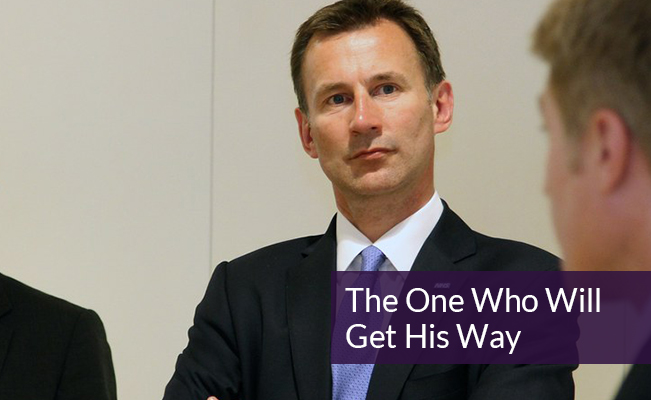 Jeremy Hunt "The One Who Will Get His Way"
Persuasive speaker
Refuses to compromise on key points
Fails to build long-term relationships
Self-proclaimed "excellent negotiator", Hunt also had involvement in the success of the 2012 Olympic Games. It's his time as Health Secretary, however that makes for an interesting case study. Hunt was the UK's longest serving Health Secretary, holding the position from 2012 to 2018. In this time, he demonstrated his strengths as a key negotiator by; persuading the prime minister to significantly boost NHS spending; overseeing the introduction of the first national waiting-time target; and, of course, simply refusing to be sacked when then-new PM Theresa May wanted him in a new role.
His persuasive manner, coupled with a total refusal to move on key sticking points, makes him a force to be reckoned with in negotiations. Of course, lacking in the ability to compromise isn't necessarily a positive, but nevertheless it works for Hunt – at least when it comes to the first deal. His hard line approach means that colleagues make deals with him out of necessity, rather than choice, which can have a lasting effect on future deals and renegotiations. Hunt doesn't always consider the long-term relationship when it comes to negotiating – a trait which certainly hasn't helped him in the current Tory leadership race.
David Davis "The Positional Negotiator"
Follows through on his commitments
Aggressive attitude to negotiations
Failure to compromise on elements of key deals
Davis, of course, also has a firm hand in politics. In his most regarded role, as Secretary of State for Exiting the European Union from 2016 to 2018, he was tasked with being one of the key negotiators as Britain navigated its exit strategy from the EU. Despite his previous determination to see Brexit through, he resigned from his position as he did not have confidence in the Prime Ministers Brexit plan. As a life-long Eurosceptic, Davis stuck to his guns all the way through his role – even if it meant leaving his post. Unlike Hunt, however, sticking to his guns didn't work out as well for Davis, who ultimately resigned his post.
Davis's communication skills or lack thereof may have made all the difference in this negotiation. Rumoured to have spent very little time actually engaging with his negotiating counterpart, Michel Barnier, Davis' poor communication combined with his refusal to compromise don't always work in his favour.
Angela Merkel "The Pragmatist"
Not afraid to be a lone voice of reason
Uses communication skills to address diplomatic tensions
Can be slow and indecisive at times of integral political need
For the last 14 years, Merkel has held the position of German Chancellor – arguably the biggest job in European politics. She is perhaps one of the most feared negotiators in the current political climate, demonstrating her key traits by always presenting herself foremostly as an internationalist.
"She has a way of talking to [Putin] that nobody has," one of her senior officials told The New Yorker.
Merkel is known to have an incredibly close negotiating partnership with Russia's President Vladimir Putin – which sets her apart from other world leaders. Managing this relationship is key for Germany, and her pragmatic, sensible and well considered approach to reaching deals – and compromises – is one of her greatest assets as a negotiating master. She is not afraid to stand alone with her views, and during her time as Minister for the Environment, her ability to listen and reach compromises allowed her to negotiate the Berlin climate deal.
Yet, this master of negotiation does have one sticking point – her indecisive manner. In fact, the Germans have coined the term 'MerkeIn' to describe Merkel's negotiating style. This means to be indecisive and lacking an opinion. Slow and steady wins the race, or so they say, but can this style succeed in today's agile workplace?
Sheryl Sandberg "The Consensus Builder"
Understands the industry she works in and uses that knowledge as power
Works "with" counterparts rather than "against" them
Not assertive or aggressive enough in dealing with demanding situations
Sandberg is a tech executive, businesswoman and current Chief Operating Officer for Facebook, a position she has held since 2008. When appointed the position, Sandberg negotiated for a higher salary, succeeding in getting Mark Zuckerberg on side by stating,
"This is the only time you and I will ever be on opposite sides of the table"
While some negotiators like to draw clear battle lines with their opponents, Sandberg prefers to charm her counterparts, convincing them that they will settle on the deal which best benefits all parties.
She also clearly understands the sector in which she operates, meaning that her negotiating partners are seldom able to overwhelm her with sector-specific knowledge and using market insights to forge better deals.
Of course, building a consensus around decisions can quickly fall apart if that decision was proven to be the wrong choice. Following the Cambridge Analytica scandal, Sandberg became embroiled in rows over culpability – does she lack the assertiveness to take responsibility for her negotiations?